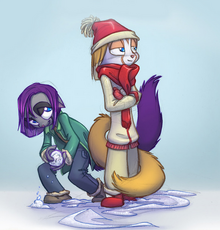 "With temperaments inverse as their colors, these sisters have a touch for ruffling feathers when events wax dull. They're terrible matchmakers, but like to stay in practice." -- Desctiption on the DK site.Twins Kalei and Jeneviv are a goofy and carefree duo. Their main appearance in the Prelude occurs when they attempt to help Evzen apologize to Lilith.
Although appearing very happy in the Prelude, things take a turn for the worse, when Jeneviv is sacrificed to summon lord void. Both Kalei and Jeneviv were kidnapped, but it is unknown how Kalei ended up in Grunn's ship.
Ad blocker interference detected!
Wikia is a free-to-use site that makes money from advertising. We have a modified experience for viewers using ad blockers

Wikia is not accessible if you've made further modifications. Remove the custom ad blocker rule(s) and the page will load as expected.