Truproc

Characteristics

Race
Gender

Male

Professional Status

Occupation

Emissary

Politician

Personal Status

Status

Active

Home

Debut

First Appearance

Prelude Strip #237

Image Gallery
Truproc is an Emissary who was shown to be interested in the political affairs of Viscount Calah.
Appearance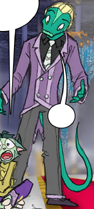 Truproc is a green reptile-like Dreamkeeper, with a slender build, light-green highlights on his cheeks, nose and between his eyes and short-cut blonde hair; while also having a long-narrow tail. He was shown wearing a purple business suit, with a white tie and black shirt underneath it; and he was wearing black pants and black shoes.
Personality
When around children of important political leaders, such as Lilith, he tends to be very gentlemen-like; complimenting their appearance and offering to help however he may as he believed in strong family values. On the surface though, he has a mild dislike toward children and thinks of them as just tools for other politicians to get what they want. Though he admits that doing such tactics would get them places and envys the Viscount because of it, seeking to gain his position.
History
CAUTION: SPOILERS AHEAD
HOLD IT, reading powers are restricted beyond this point!
This article contains actual spoilers from both GNS and Prelude that may reveal major plot points and hidden character information. If you wish to be saved from the nightmarish reveals, tread carefully and read at your own risk!
Prelude
Truproc was first seen at a gathering of politicians, waiting to see the Viscount, where he noticed Lilith on the floor and politely offered to escort her to her father. She declined the offer and assured her that if she needed him he would be there. His tone quickly changed after he went away from her and along with another politician, Bellomont, talked about how her father uses her to get to where he was now while also noting that if they were to stand a chance, they would need to start to "suck up".
The following day he and many other politicians would try again to see the Viscount. During which he saw a strange little girl cutting in line and even going inside the Viscount's office.
Trivia
References
Ad blocker interference detected!
Wikia is a free-to-use site that makes money from advertising. We have a modified experience for viewers using ad blockers

Wikia is not accessible if you've made further modifications. Remove the custom ad blocker rule(s) and the page will load as expected.