Sage

Characteristics

Race
Gender

Female

Professional Status

Affiliation

Troika

Occupation

Troika Soldier

Personal Status

Status

Active

Home

Power and Weapons

Power

Unknown

Debut

First Appearance

Volume 4 (Chapter 10)

Prelude Strip #360

Image Gallery
Sage is a member of Troika who is involved in Operation Guillotine.
Appearance
Personality
History
CAUTION: SPOILERS AHEAD

HOLD IT, reading powers are restricted beyond this point!
This article contains actual spoilers from both GNS and Prelude that may reveal major plot points and hidden character information. If you wish to be saved from the nightmarish reveals, tread carefully and read at your own risk!
Prelude
While inside a delivery house out in the Margate District, Marvin came in with Robert, who he found wandering outside. She berated him for calling her by name and told him to take him back outside, presumably to kill him. However once she received the paperwork relating to Anise and the CCA she was shocked by what she learned.
Volume 4
Chapter 10 - 12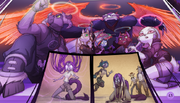 Sage was first seen attending a meeting with Igrath and Scinter regarding on how to kill the attorney general, as part of a special operation to take down all the Dark Dreamkeepers currently occupying Anduruna. Later, she and her fellow soldiers reacted to Kalei's unexpected use of her Power by activating their own.
She was later seen with Tia in the stables, watching Igrath tend to the animals when Digo rushed in seeking help regarding Woods. She joined them in dealing with him and witnessed a live-feed of Viriathus' team being attacked by a Nightmare. Once Igrath made sure they were still fine, he rushed off to get a Jumper, while Sage yelled that he needed her to punch in the coordinates.
Eventually everyone returned from the underground ruins and she helped tend to everyone's injuries.
Power and Abilities
Unknown Power: When Kalei unleashed her Power on everyone, Sage reacted by activating her own, spawning a Halo above her head. It is currently unknown what sort of Power she possesses.
Trivia
Like the rest of Troika, it is not yet known when she joined the resistance or why.
Quotes
(to Marvin) "And oh, so good of you to repeat my name, Marvin. That just warms my heart, I'm about to break your legs into song."
References