O'Naicul

Characteristics

Race
Gender

Male

Professional Status

Affiliation

Nightmares

Neon Knives

Occupation

Neon Knives Leader

Dark Dreamkeeper

Personal Status

Status

Unknown

Power and Weapons

Power

Ranged Contriction

Debut

First Appearance

Volume 3 (Chapter 7) (cameo)

Volume 3 (Chapter 8) (actual)

Image Gallery
O'Naicul is a Dark Dreamkeeper who works for Nabonidus while running the Neon Knives, mostly consisting of Dark Dreamkeepers.
Appearance
O'Naicul resembles a large white crocodile-like Dreamkeeper with swirl-markings on various parts of his body and had pinkish-colored eyes, however one unique aspect about him is that he has a centaur-like body structure, having a large belly and moderately-long tail. He was shown to wear a large gray tank-top that went down past his front legs.
Personality
Not much is known about O'Naicul except for having a mean demeanor that involved wanting to eat people whenever he feels betrayed. Oddly enough he is shown to have a little orange bird on his head which he doesn't seem to notice and mistakes people for looking at him when looking at it.
History
CAUTION: SPOILERS AHEAD

HOLD IT, reading powers are restricted beyond this point!
This article contains actual spoilers from both GNS and Prelude that may reveal major plot points and hidden character information. If you wish to be saved from the nightmarish reveals, tread carefully and read at your own risk!
Volume 3
Chapter 8
Chapter 9
Volume 4
Unlike some of his other subordinates, he was not shown to be among the ones who survived his encounter with the shock troopers, however it seems to be heavily implied that he may have lived if his neons have.
Power and Abilities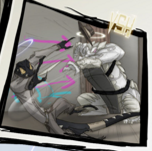 Ranged Constriction: According to the Troika database on Dark Dreamkeepers, his Power was classified as "Ranged Constriction". In action, O'Naicul is capable of forming a large, nearly invisible ring around the target by reaching out for them. He can then force the target to move by controlling the ring. It was first used on Scythe in order to keep him from outright killing Bast so they can get more information from him.
Trivia
Like how crocodiles in real-life will have birds perched on their heads, O'Naicul was shown to have a little bird on his head.
O'Naicul is the second character to have a centaur design, the first being a background character in Volume 1.
O'naicul is Luciano spelled backwards. "Lucky" Luciano was an Italian-American mob boss and the founder of the American-based crime syndicate, the Commission. Whether or not this reference has any relevance to O'naicul's status in the criminal underworld remains to be seen.
References